Plunkett's Pest Control During COVID-19
Our role in protecting the health of our communities has never felt more important. Plunkett's Pest Control remains open during COVID-19, providing an essential service to our clients who need pest management in their home or business. Each service is completed at a safe distance and with everyone's health and well-being as the highest priority.
Our Pest Control COVID-19 Response
The entire Plunkett's team is taking the COVID-19 pandemic extremely seriously. However, pest control is an essential service during the Coronavirus outbreak. We closely monitor and follow all state, federal, and CDC guidelines regarding safety for ourselves and our clients.
We have found that—while COVID-19 is top-of-mind—our services are needed and can be delivered without close human contact. Luckily, by nature, our work is solitary and socially isolated. At a time like this, nobody wants to add a pest-related health issue to the list of problems. That's why Plunkett's is here to provide peace of mind for your home or business!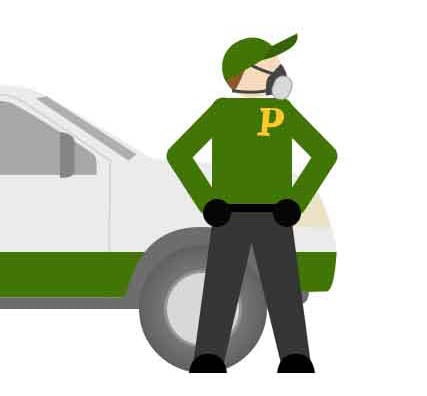 How Plunkett's provides services at a distance
Our pest control technicians are prepared to provide you with exceptional pest control services, all while being COVID-19 conscious. To make your Plunkett's experience as safe as possible, our team will:
●      Make check-ins brief or perform them over text/email
●      Socially distance themselves from you
●      Avoid direct physical contact such as a handshake, for example
●      Note your name on the service receipt instead of requiring a signature
●      Not print paper for the service receipt or log reports—Plunkett's has actually been 100% paperless for years!
Guidelines for our employees during the Coronavirus outbreak
To ensure the safety of our employees and customers, Plunkett's team members are required to:
Stay home if they are sick
Wash their hands thoroughly and often—including before and after each service
Wear face covering masks at client sites; when requested or required
Avoid touching their face
Stay 6-feet apart/practice social distancing
Get safe and effective pest control during COVID-19
Your safety is our #1 priority! Given that we work with pesticides and rodenticides every day, we are well accustomed to important hygiene protocols like frequent hand washing, wearing a mask, and more as required by the label and the law. If you are in need of pest control, get in touch with the experts at Plunkett's!
Thank you for being a valued client of Plunkett's Pest Control.
Frequently Asked Questions During COVID-19
Essential Service Update:
Our role in protecting the health of our clients has never felt more important.  Pest control and extermination services have been deemed essential by the US Department of Homeland Security in their Memorandum released publicly.  (Public Works - item #3, Food and Ag - item #11)