Effective Pest Management & Prevention
Whether you're looking for a one-time pest control service or a scheduled pest control plan, Plunkett's is here to help!
Excellent customer service is the cornerstone of our business. We guarantee our service professionals will:

Send advance notification of arrival time, w/ real-time tracking
Arrive in a branded vehicle and uniform with a company ID
Respect your property and every member of your family, including your pets
Inspect the area, identify the pest, and propose a solution
Deliver a detailed service report for easy reference with simple payment options
When you're facing a pest problem at your home or business, there's only one thing you want: to have it taken care of. In addition, you want the work done quickly and efficiently with minimal chance of repeat issues.
That's where Plunkett's comes in. We've been in the pest control business for over a century, and our team of certified, licensed professionals are the best of the best. Not only are they up to date on all relevant federal and state licenses, but they're also respectful and happy to answer any questions you may have.
Local Technicians are Ready to Help In Your Area!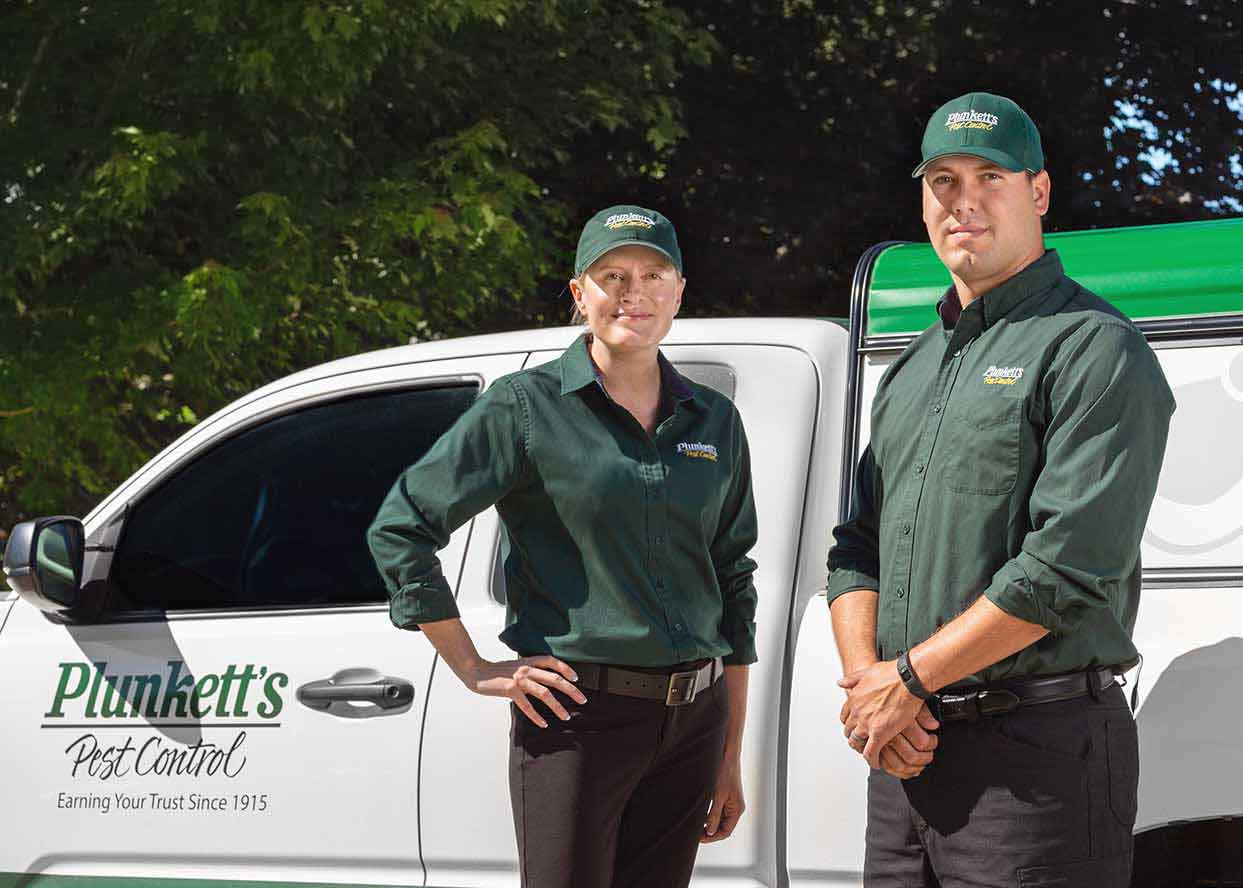 Plunkett's Pest Control Service
Finding the right pest control company for your home or business can be daunting. If you've ever wondered where you should go for the best local pest control, you've come to the right place.

Plunkett's has been family-owned and operated since its inception, over a century ago. Many of our licensed technicians have been working with us for twenty years or more. This means that not only do we have years of experience, but the best-certified technicians in the business are also carrying it out. Call us today to see for yourself.
"Year after year of great service. Well worth the value."
- Gerald C., Midwest USA
Get year-round protection against common household pests. Includes an intensive initial inspection and service with scheduled preventative treatments.
HomeGuard Program Features:
Intensive initial inspection and service of the exterior (and interior) of the home to identify and solve existing pest issues.
A scheduled service plan will be setup between you and your technician where we do preventative work to keep pests out in the first place.
Your technician will also automatically add value to your services by doing things like clearing away spider webs and treating your outside garbage bins so they don't attract so many flies.
Free "call-backs" for covered pests all year-round. If anything crops up between scheduled service calls, your technician will come out and take care of it at no extra charge.
Ants
Wasps / Bee Nests
Mice / Rats
Roaches
Spiders
Fleas
Root Weevils
Millipedes / Centipedes
Spring-tails
Pantry Pests