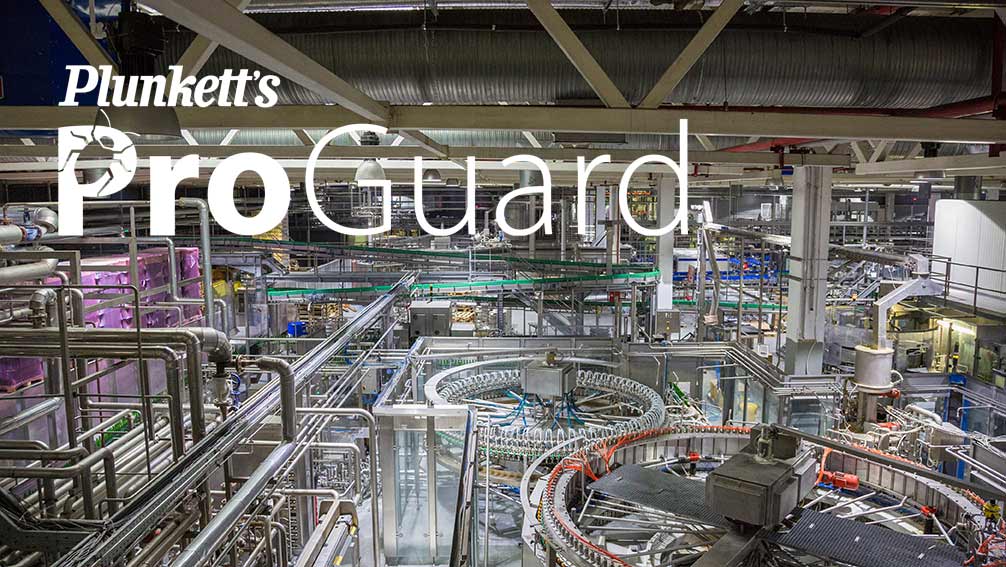 Experts In Food Processing Pest Control
Without food safety, almost nothing else matters. At Plunkett's, we know how important our role in this process is, which is why over 800 food processing facilities across the US have trusted our ProGuard™ program to deliver the highest of service standards to ensure the protection of public health and client brand.
Rigorous Service Standards
Rigorous Service Standards
In food safety, if the process isn't written down, trained, and measured, then it's not a process. We take the same approach to pest control. To start, Plunkett's has established the highest standards in pest thresholds, equipment maintenance, inspection quality, and client communication. Next, our technicians undergo the most intense initial training and continuous education training in the industry. In the field, our technicians have routine access to their supervisor and field training specialists during regular quality assessments or any time they need support.
ClypboardPro™ isn't just another "digital log book" - it's the most advanced software experience in the industry. Via heat mapping technology and data analysis, our technicians stay ahead of pest activity, our clients stay on top of our progress, and auditors stay off our back.

Audits are stressful enough already - you shouldn't have to worry about your log book documentation. Our Audit Analyzer continuously scans your log book for unauthorized chemical applications, expired or non-existent licenses, and outdated documents. Our team is instantly alerted of any issues so that they can be corrected well before an audit. And you? In the spirit of full transparency, we'll email you the complete analysis two weeks ahead of scheduled audits - or you can run the analysis whenever you'd like.
Food Processing Client Reviews
Without integrity, a company crumbles. That's why, at Plunkett's, we pride ourselves on the caliber of people we have on our team.
Every Plunkett's employee must pass an array of reviews every year, including background checks and other screenings. Plus, many of our dedicated technicians have been with us for 10, 20, even 30+ years! Our pest management team is passionate about delivering you an exceptional service experience every time no matter the type of pest.
Other Industries We Serve
Food and Beverage Processing
Distribution and Storage
Medical Manufacturing
Pharmaceutical
Agriculture
Multi-Housing
Hospitality and Hotels
Healthcare
Large Retail and Mall
Food Retail and Grocery
Restaurant
Bar and Tavern
Education
Mass Transit
Our technicians are ready to help rid your space of unwanted pests today.