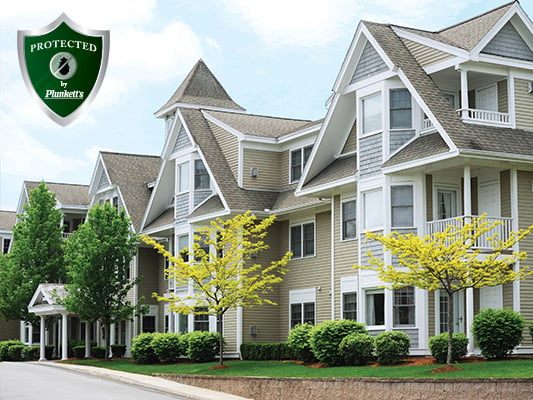 For property owners and management companies.
Experts in Multi-Housing Pest Management
At Plunkett's, we understand that Multi-Housing clients face unique challenges and have concerns that vary significantly from residential and commercial clients. Since 1989, we've dedicated an entire division to listening to these concerns and developing innovative solutions to their problems. Here are just a few of the creative ways we set ourselves apart:
Top-to-Bottom Building Treatment
Quarterly Unit-by-Unit Inspections
Move-in and Move-out Inspections
Resident Education / Staff Training
Our Award Winning Program
Organized Service Reports and Invoicing
Stay on top of exactly what services are being performed inside your units and know exactly what is being invoiced. Our billing system is flexible enough to send an invoice for each additional service, bundle your buildings and units into one consolidated bill, or anywhere in between - we'll work with you to make sure we're not creating more work for your team at the end of the month.
It sounds simple: has unit #305 had a history of roaches? What units have had bed bugs? Surprisingly few companies can answer these questions, in general, and even fewer provide their technicians this information. At Plunkett's, we provide our team with the information they need exactly when they need it to make the right decisions for your tenants and buildings.
Quarterly Unit Inspections
Unit turnover is a natural part of your business. Unfortunately, each new tenant has the potential to expose surrounding units to hitch-hiking pests. To stay on top of this issue, and deliver measurable progress, we offer the option of quarterly inspections throughout your entire building. We're fast and thorough. In the end, you'll get a complete report of our findings and a plan for following up on any identified pest issues. Our online portal enables you to reference this data throughout the year and track our progress to a pest-free environment.
Budget Control with Annual Optimization Feature
We get it - an unexpected pest control bill isn't in the budget. Nor was that unexpected tenant's pesty hitch-hikers. Stay in control of your annual budget with Plunkett's Multi-Housing program that puts a cap on how much you'll spend, but no limit on our level of service. Each year we'll evaluate the pest-health of each property and work with you to develop the budget for next year.
Frequently Asked Questions During COVID-19
Multi-Housing Client Reviews
Other Industries We Servce
Food and Beverage Processing
Distribution and Storage
Medical Manufacturing
Pharmaceutical
Agriculture
Multi-Housing
Hospitality and Hotels
Healthcare
Large Retail and Mall
Food Retail and Grocery
Restaurant
Bar and Tavern
Education
Mass Transit
Our technicians are ready to help rid your space of unwanted pests today.