Plunkett's Pest Control, Inc. has acquired Animal Control Specialists LLC, New Franklin, Ohio.
With this acquisition, Plunkett's expands their wildlife capabilities in the State of Ohio and beyond.
According to Plunkett's President, Stacy O'Reilly, "Varment Guard is so pleased to add Rob Winters and his technicians to our Ohio wildlife team. Rob brings rich wildlife expertise and leadership to our team. We are thankful he chose to join us and look forward to serving our clients even better in the future."
Animal Control Specials Specialists owner Robert Winters shares O'Reilly's enthusiasm about the acquisition. "When my wife Dawn & I received an offer from Varment Guard last month, it was an answer to our prayers. We had grown so fast in just eight years that I was at my limit of what I could handle while still being able to give my family the time and attention they deserve."
Winters continued, "Our reputation, quality of work, and employees were second-to-none, but that also brought the 'problem' of growing faster than we could manage.' Winters continues, "This acquisition will allow me to step away from all the day-to-day stresses of owning a business and allow me to get back to doing what I truly enjoy. I have always viewed my employees as our most valuable asset, along with our amazing client base, and Varment Guard views them the same. We were a family-owned company and always chose to do what was 'right' for our employees and clients over what might bring the highest bottom line. One of the major selling points for me was that Plunkett's/Varment Guard is also a family-owned company that makes decisions based on what is best for their employees and customers instead of what's best for a group of shareholders. They are a company with the structure, integrity, and resources to make big things happen, and they have the most amazing team of people at the helm! Varment Guard will help our team grow in ways that we could never have imagined on our own. We can't wait for this next chapter!"
ABOUT PLUNKETT'S PEST CONTROL:
Founded in 1915 in Minneapolis, Minnesota, Plunkett's Pest Control, Inc. is a family-owned and operated corporation led by third-generation president Stacy O'Reilly.
Still based in Minneapolis, with a regional office in Columbus, OH, Plunkett's delivers professional pest control services to over 74,000 residential and commercial clients in twenty-two states.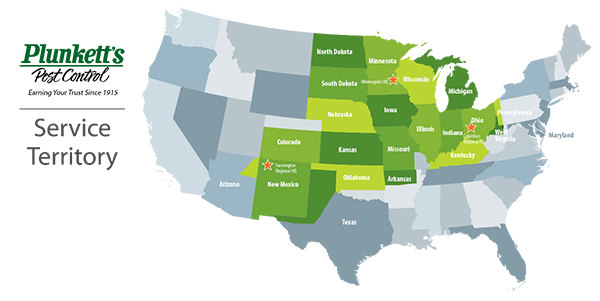 ABOUT ANIMAL CONTROL SPECIALISTS, LLC:
Animal Control Specialists was founded in New Franklin, Ohio in 2013 by Robert Winters and his wife Dawn. Animal Control Specialists is an Akron, Ohio-based wildlife removal company serving Summit, Stark, Medina, Wayne and Portage counties Ohio.