When temperatures get low and food gets scarce, rats need to find a way to stay warm and survive the winter. Come spring time, rats (and their babies) are plentiful as ever. How do rats make it through the cold temperatures? Here are the four primary ways rats outmaneuver, outlast, and outthink the winter.
How do rats live through the winter?
1. Stockpiling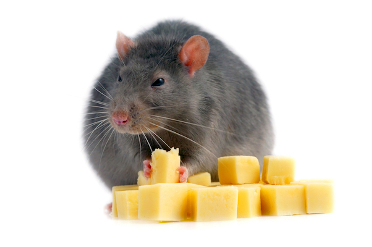 Rats aren't able to fatten themselves up for the winter like other animals, but they can prepare themselves for winter in other ways. Starting in autumn or even late summer, rats and mice start getting more aggressive in the pursuit of food. Instead of eating opportunistically, they start seeking extra food.
Rats can and will eat virtually anything, including garbage, so they always have options. Generally, rats will drag their findings back to an area they can access easily and leave it there for later. They maintain their stockpiles throughout the winter, often incorporating them into their children's nests.
A few rat favorites include garden or bird seed, pet food, paper, nuts, compost waste, and fabric. We've solved many infestations simply by moving bird feeders farther away from a structure. It might also be a good idea just to take the bird feeder down come fall.
2. Burrowing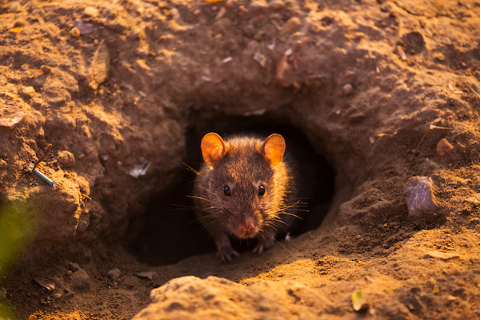 Stockpiling helps explain where rats get their food in the winter, but they need to stay warm, too. Luckily for them (and not so much for us), rats are excellent at digging. They'll look for a structure like a rock, wall, or fence, and dig a burrow beneath or against it. If you have a rat infestation, you may see small rat homes against air conditioning boxes and electrical units.
Rats don't spend all their time in their burrows. They prefer to venture out to seek food or preferable shelter. They can burrow into open ground or through snow, but they won't unless they absolutely have to, however.
Remember: rats always prefer to use your house for shelter rather than burrowing. If they have a way into your house, they'll use it every time. Look for ways rats could burrow into your house, such as by eating through insulation or by running along utility lines.
3. Nesting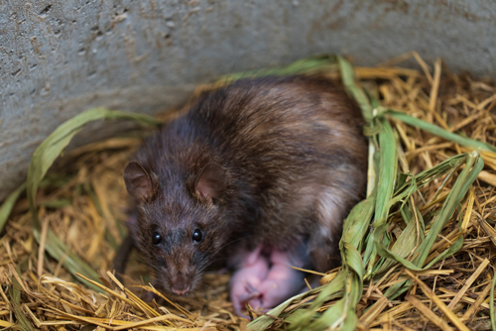 To make their nests, rats drag whatever they can find to a secluded place and bunch it all together. The location of the nest is a lot more important for rats than the material. Rats seek out warm, dark places where they won't be bothered by humans or other natural predators.
4. Creativity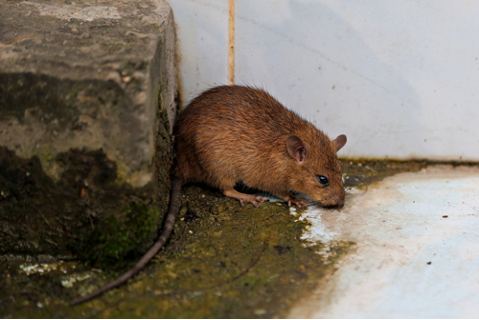 Rats survive the winter by being clever at getting what they need. Burrowing under floorboards, chewing through electrical cables, climbing up drain spouts, and even squeezing under doors—we've seen the furry little pests do it all.
How to keep rats out this winter
So. What does this all mean for you? The best way to ensure you keep rats out of your home is to sweat the small stuff: look for any possible entries, no matter how small, and practice good organizational and cleaning habits. If you make your home as inaccessible and unappealing as possible, even the most ambitious rats won't trouble you this winter.
However, the best way to get rid of a rat infestation in the winter is to get help from a professional pest control company. Sometimes rats get in no matter how hard you try to keep them out. That's what we're here for. Plunkett's gets and keeps rats out—get in touch with us today!