As days get shorter, deciduous trees stop using their leaves to gather sunlight and enter survival mode. They shed their leaves in order
to conserve energy and toughen themselves up
. Having served their primary purpose, leaves simply die and begin to decay after shedding.
Fortunately (in most cases),
life finds a way
to make just about everything serve a purpose, even dying leaves. Unfortunately, the "other purpose" life finds for leaves often has to do with feeding and sheltering fall pests. Given half a chance, bugs, rodents, and other undesirables would love to leap right into that leaf pile right alongside you. Here's why:
Beetles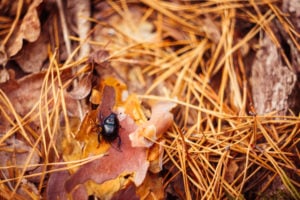 Different species of beetle adapted to winter temperatures in a lot of different ways. Some beetles coordinate their life cycles to survive winter as cold-resistant grubs, some hibernate underground, and some even
produce antifreeze
inside their bodies!  
However beetles survive, however, they
prefer
confined, humid environments that will keep them warm and comfortable. Decaying leaves produce a source of food, cover, darkness, and even moisture for beetles to enjoy. If other shelter seems scarce, your leaf pile could end up harboring a
lot
of beetles. So many, in fact, that some will have to find somewhere else to feed and hibernate--like your house.
Termites
Termites are infamous for their wood-destroying tendencies, but it's not the wood itself they really want. In reality,
termites eat the cellulose in wood
. Cellulose is a natural fibrous substance that's also found in other plant materials, including leaves. When leaves start to decay, they give off a distinct scent that termites can smell from surprisingly far away.
Unfortunately, termites are never content to munch on the leaves they track down once they arrive. Termite colonies need wood to burrow into in order to establish themselves, mate, and expand. That means if a group of termites happen upon a leaf pile, they'll start looking for nearby wood to burrow into. That wood could be a tree in your yard or part of your home.  
Roaches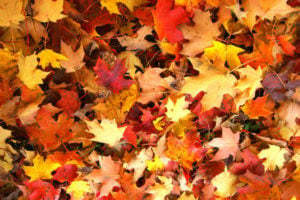 Cockroaches are famously hardy creatures, but they're also far more comfortable in warmth and humidity than cold. When fall comes around, roaches start to get desperate for the shelter and humidity they need to survive. Not only did leaf piles provide that warmth, they provide cover and considerable moisture as well.
Leaf piles won't protect roaches all winter long, but they're a great stopgap while the gross bugs look for more permanent accommodations. If they're using your leaf pile, chances are those
more permanent accommodations will be your home
. When roaches find a safe place, they hibernate over the winter and wake back up in spring. That means raking your leaves now could prevent a roach infestation this spring!
Predators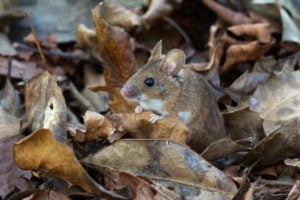 Snakes and rodents may not come for the leaves specifically, the way other pests do, but they have a vested interest in showing up for leaf piles anyway. They want the pests that
do
come for the leaves. Beetles are a great source of protein for predatory rodents. Snakes eat beetles too, but they
really
eat mice.
So, to summarize: leaves attract beetles. Beetles attract rodents. Rodents attract snakes. Ipso facto, leaves attract snakes.
Snakes
. Maybe this is just us, but we don't want anything in our yard that makes snakes think, "Yeah, I wanna go over there." Especially because, once
rodents need a place to spend the winter
, they'll try to get into the nearest house. And the snakes might well
follow them
!
We get not wanting to rake up fallen leaves. It seems like by the time you're done raking up one bunch, another has fallen somewhere else. Besides, they're prettier than dead grass anyway.
Even if you don't mind the look of dying leaves, however, we're guessing you
do
mind pest infestations. And when it comes to preventing infestation, raking up and disposing of your leaves is one of the most important things you can do this fall. Another important thing you can do:
give Plunkett's a call anytime
. We can either prevent or drive out any pest infestation, be it beetle, rodent, or snake. Boy, we hope it's just beetles.