From left to right: Aly Silva Mulgrew, Alex Guzman, Mark Winston, Scott Steckel
Plunkett's Pest Control, Inc. has acquired Conquest Pest Solutions, a Chicago-based pest control company that provides full-service pest control to greater Chicagoland. This acquisition merges two privately-owned pest control companies and expands Plunkett's service capabilities in Illinois.
Aly Silva-Mulgrew, president of Plunkett's Pest Control, says that "We are thrilled to welcome Mark Winston and the Conquest team to the Plunkett's family. Mark and his team have a proven track record of providing exceptional pest management services to their clients in the Chicago market. Their expertise and experience will deepen our capabilities and allow us to better serve our clients in this region. We are confident that this acquisition will be a win-win for both companies and our clients."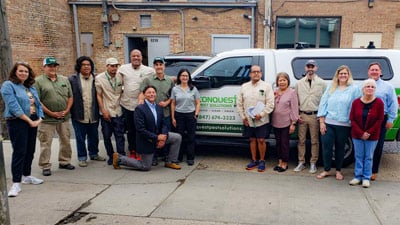 Conquest Pest Solutions Team
Conquest Pest Solutions' owner, Mark Winston, commented on the merger, saying that, "I chose Plunkett's because I believe our values and corporate cultures are in harmony. We share a deep commitment to fostering a culture of loyalty, both within our companies and in our relationships with our customers. I am thrilled to be a part of this team, and eager to witness the amazing things we will achieve together."
Conquest Pest Solutions was started by owner Mark Winston in 2008. Conquest Pest Solutions started as a full-service pest control company after Mark Winston branched away from termite inspections – what got him into the pest control business. Being a fixture in the community – volunteer work and helping out neighbors – has always been important to Conquest Pest Solutions. Mark Winston, along with his entire team at Conquest Pest Solutions, will join the staff at Plunkett's and continue to service the Chicagoland area.
Founded in 1915 in Minneapolis, Minnesota, Plunkett's Pest Control is a privately-owned and operated corporation led by President Aly Silva-Mulgrew, and third-generation owner and board chair, Stacy O'Reilly.
Still based in Minneapolis, with regional offices in Columbus, OH and Farmington, NM, Plunkett's Pest Control and Varment Guard Wildlife Services deliver professional pest and wildlife control services to over 70,000 residential and commercial clients in 22 states.