It's a new year again, and you know what that means: time to start thinking about your resolutions. If you're anything like us, you're probably still in the "optimistically ambitious" stage of resolution planning. In early January, you're all "learn a new language", "write a novel", or "become an Olympic-level fencer". Then, come February, you inevitably… rein these goals in a bit.
If there's one new year goal that's worth sticking with, however, it's making your home pest proof. This might
sound
like one of those "optimistically ambitious" goals, but it's not. In fact, it's not that hard at all! Here are four important projects you can accomplish this new year to make your pest-proofing resolution come true. Get them done early, and you'll have more time for fencing practice!
Re-sealing and Weatherproofing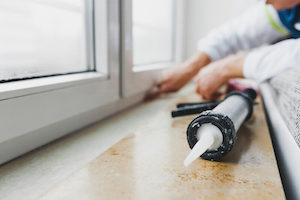 If you've read (
almost literally
) any of our
other blogs
, you're probably tired of hearing this. Well, there's a reason we mention it so often. Easily the #1 place pests get into your home is through gaps around doors and windows. Usually, these gaps are between
worn-out weatherstripping
and the door or window frame. Rubber weatherstripping gives way juuuuust enough to allow intrepid pests to squeeze under.
You should check on your weatherproofing every year. See if you can easily lift it from the frame using a pen or pencil. Replacing weatherstripping isn't difficult or expensive, but it is important. While you're checking your weatherstripping, look around frames, too. Make sure your windows and doors sit properly without leaving gaps. Over time, frames, doors, and windows can all warp. This shifting may eventually create openings that pests can get through. If you identify such a gap, re-install the door or window and consider repairing the frame itself.
Repair Leaks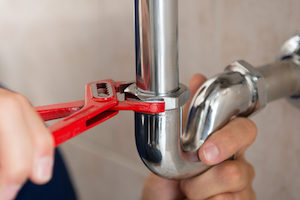 There are a million good reasons to repair plumbing leaks. They use a lot of water, waste a lot of money, and attract a lot of pests. At this point, most homeowners object: "but
I
don't have any plumbing leaks!". But are you sure?
Really
sure? Plumbing leaks aren't just the cartoon-ish pressurized geysers we tend to picture them as. They're also dripping faucets, loose fixtures, hairline fractures, and even dribbling pipes inside walls.
First thing's first: at the start of the new year, you should check your whole home for plumbing leaks.
Use your water meter
to identify whether or not you have any interior or exterior leaks. If you find out you have one, check every plumbing fixture. Sinks, toilets, faucets, and p-traps all spring leaks frequently. After checking fixtures, use a flashlight and follow your home's piping until you find the leak. If you still can't see it, you can always call for professional assistance.
Draft Maintenance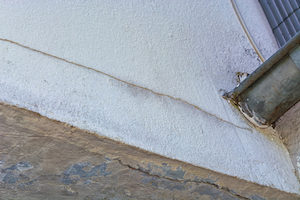 Drafts happen when cold air seeps into a home through a gap, sucking out hot air in the process. If you have a draft, it means there's a hole in your home's insulation that air can enter through. 99% of the time, if air can enter through a gap, pests can too. Some pests, like mice, can actually feel hot air escaping from your home through gaps. They can follow this hot air straight through the gap where it's escaping and into your home!
Drafts can be difficult to find
. Trust your instincts. If you think you feel a sudden temperature shift in certain parts of your home, you're probably not wrong. Drafts are common around windows and doors, especially in basements and attics. Try making a space as dark as possible to see if you can spot light coming through the small gaps. You could also carry a candle and watch for slight breezes. Seal up cracks and gaps with caulk to prevent drafts
and
pests in one fell swoop!
Spring Cleaning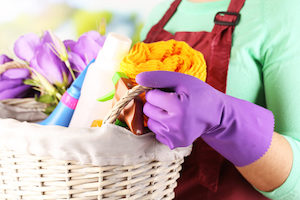 Ok, we know spring isn't happening for months. Even we're
not THAT optimistic. Nevertheless,
getting started on your big cleaning projects
this year will go a long way toward keeping pests out. Start in your basement and work your way up. Go to town! Clear the floors, vacuum, sweep, mop, and dust. Go through your belongings. Clean out drawers, cabinets, boxes, and bags. Dispose of anything you forgot about or don't need. The more you can donate the better--for you and everyone else!
Pests thrive in clutter. In fact, many pests, like cockroaches, bed bugs, and moths, actively seek out homes where they can hide easily. Never underestimate the power of simple cleaning to help you keep pests out and reclaim ownership over your home. As an added bonus, you can look for drafts, plumbing leaks, and other pest vectors while you're cleaning. By the time you're finished, you'll feel more organized and ready to fulfill your new year's goals.
Keeping pests out of your home probably doesn't sound terribly exciting, as far as new year goals go. But think of it this way: keeping pests out is a big step toward taking greater ownership over your home and life. This is the year you get even more organized! Today, you conquer the pests. Tomorrow: the world!
...Or, you know, whatever it is you're setting out to do. We know you can do it! If you need a little help with your pest problem before you conquer the world, however, feel free to
call Plunkett's any time
. We're happy to help your new year's resolutions come true.