Asian Longhorned ticks (Haemaphysalis longicornis) are an invasive tick species first discovered in the US in 2017. They have been reported in ten eastern US states and may be spreading further. These ticks are known vectors for several dangerous diseases in their native range. They also harm and infect livestock.
The Asian Longhorned tick is the first invasive tick species to make it to the US in 50 years. They're considered particularly alarming for two reasons. First, in Asia, the species transmits a virus that kills 15 percent of its victims. Second, the tick reproduces particularly rapidly, and can seriously hurt livestock by quickly sucking substantial amounts of their blood. Considering all of this, we don't blame you for being concerned about the Asian Longhorned tick! Here's everything you should know about our newest invasive species, including how to protect yourself from it:
What is an Asian Longhorned Tick?
The Asian Longhorned tick is a tick belonging to the family Ixodidae. The species closely resembles many of the common ticks found in North America. They're around 2 to 3 mm long and 1.5 to 2 mm wide, and reddish-brown in color. Like most ticks, they will grow in size and become engorged after a blood meal.
Despite their similar appearance, Asian Longhorned ticks are different from native ticks in several alarming ways. The invasive species recently migrated to the US from East Asia, where it is a dangerous livestock pest and disease vector. Unlike native ticks, Asian Longhorned ticks reproduce via "parthenogenesis," meaning they can lay fertilized eggs without mating. This ability, along with their ability to overwinter underground, has helped the tick establish itself in the US very quickly.
Where did Asian Longhorned Ticks come from?
Asian Longhorned ticks are indigenous to Eastern China and Russia, Japan, and Korea. The ticks were first discovered in US in 2017, when they were attached to a sheep in New Jersey. Since then, the tick has been reported in Arkansas, Connecticut, Delaware, Kentucky, Maryland, North Carolina, New Jersey, New York, Pennsylvania, Tennessee, Virginia, and West Virginia. The first reported Asian Longhorned tick bite on a US resident occurred in New York late last year.
No one knows exactly how the tick arrived in the US from east Asia. The most likely scenario is that a female Asian Longhorned tick simply attached to a traveler. The host didn't notice their tick bite and brought the tick with them when they traveled from Asia to America. Parthenogenesis allows even a single tick to "clone" itself by laying thousands of eggs independently. In other words, a single tick would be enough to kickstart the establishment of the tick as an invasive species.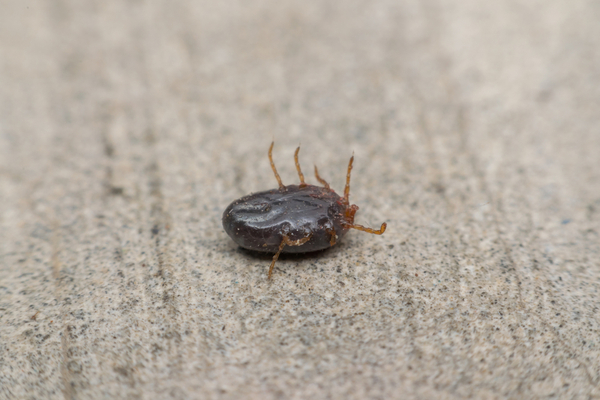 Are they dangerous?
Potentially. The CDC calls Haemaphysalis longicornis "an important vector of human and animal disease agents." In their native range, the tick is a known transmitter of severe fever with thrombocytopenia syndrome virus (SFTSV), which causes a human hemorrhagic fever, and Rickettsia japonica, which causes Japanese spotted fever. Fortunately, as of August 1st 2019, the CDC reports no evidence that H. longicornis has transmitted pathogens to humans, domestic animals, or wildlife in the US. Even if H. longicornis didn't bring pathogens with it, however, it could still transmit diseases it picks up here. The tick has the potential to transmit Anaplasma, Babesia, Borrelia, Ehrlichia, and Rickettsia, all of which circulate in the US.
The tick prefers livestock hosts to human hosts, but it can attach to humans. Thousands of ticks may be found on an animal host at a time. Research is continuing to evaluate just how dangerous and widespread the Asian Longhorned tick threat is. While you shouldn't panic, you should be aware of ticks and how to protect yourself from them.
How can I protect myself from them?
You can protect yourself from Longhorned Asian tick bites the same ways you protect yourself against other ticks. First, wear EPA-registered insect repellents, high socks, and long pants whenever you're walking in tick-infested areas. Don't walk through the brush or long grasses. When you get back home, tumble your clothing in a dryer for 10 minutes. Check your body for ticks while you're waiting. If you find ticks attached to you, remove them with tweezers and save them in rubbing alcohol.
Remember to check your pets for Longhorned Asian ticks, too. Ticks tend to attach to pet's ears, snouts, underbellies, and paws, so check these areas especially closely. Re-examine your pet for ticks whenever they go outside and whenever you wash them. If you remove a tick, you can send it to your local agricultural extension office for identification. They can tell you if you should visit your doctor or veterinarian for more information.
Researchers all over the US are evaluating the potential impact and the danger the Asian Longhorned tick poses. Based on the information we already have, however, the experts don't think you should panic. Asian Longhorned ticks are definitely intimidating, but they're also just another pest. You can avoid them the same way you avoid other tick bites. Stay aware of the Asian Longhorned tick, but don't let it keep you from going outside!
remove tick harborages
get in touch today