Winter is, without a doubt, the most challenging season. On top being cold, dark, and miserable all the time, winter creates all kinds of home maintenance concerns. With everything else you've got to worry about this winter, we don't blame you for
forgetting about pests
. Who has time to worry about the one problem that's
easier
to deal with during winter?
Unfortunately, winter creates unique pest concerns, just like it creates concerns for… every other aspect of life. In this case, we're talking about ice dams. The most dangerous thing about ice dams is how easy they are to forget about--at least, until the trouble starts. Here's everything you need to know about ice dams, why they're a problem, and how to prevent them.
What is an ice dam?
An
ice dam
is a ridge of ice that builds up on the edge of a roof. The accumulated ice blocks melting snow, keeping it from draining off the roof properly. The ice wall acts like a dam because it blocks and contains the water behind it. When the water blocked by the ice freezes, it joins with the ice and reinforces the dam. 
How does an ice dam happen?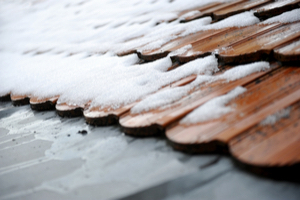 Ice dams happen under strange but surprisingly common circumstances. The air temperature around the top of the roof must be above freezing, while the air temperature around the lower portion must be below freezing. Snow on the top of the roof will begin to melt, sliding down the roof.
When the melted snow reaches the lower temperatures at the bottom of the roof, it will re-freeze as ice. This re-frozen ice accumulation will grow as snow continues to slide down onto it. Uneven air temperature around a roof usually happens when indoor heat leaks or shoots out of vents or chimneys. The most common causes of ice damming on a home's roof are inadequate insulation or improper ventilation.
Why are they dangerous?
As water builds up inside the ice dam, it can begin to leak into a home. Leaking water can damage roofing, insulations, walls, scaffolding, and other important structural materials. The heavy accumulated ice also puts the roof, siding, or gutters under undue strain.
Over time, leaking water may damage the structures surrounding ice dams enough to compromise their integrity. The compromised structure may not be able to handle the extra weight of the ice. Ice damming could reduce a structure's effective life span or even lead to cracking, buckling, or a complete collapse.
How do they cause pest problems?
As we've noted
countless
times
before, pests love moisture. Ice dams leak a surprising amount of moisture and humidity into homes. Even worse, all that water is usually headed into an attic. Attics tend to be dark, secluded, and quiet--in other words, they're already just about everything a pest could want. Moisture from an ice dam is just the "icing" on the cake.
Ice dams don't stop causing pest problems come spring, either. As they melt, ice dams tend to leak into the damage they spent the winter inflicting on the home. This melted snow-water could sit in your attic for weeks or even months if it sinks into absorbent materials. As
pests wake up in spring
, they go looking for places where they can quench their hibernation-induced thirst. A dark, quiet attic full of melted-snow puddles will look like spring paradise to them.
What should I do about them?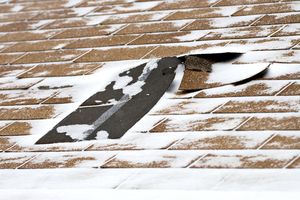 The best way to prevent ice dams is to keep them from forming in the first place. Keep an eye on your roofing and gutters this winter. Carefully remove any ice that you see accumulating near the bottom of the roof. Icicles may be an early sign of problematic accumulation. You could also use a roof rake or a broom to remove snow from the roof before it melts. Be careful not to hurt yourself or your roof while you're doing either of these things!
If you seem to have a lot of ice dam problems, you should consider long term solutions. Have a professional inspect your attic or highest floors insulation, especially around the roof. Invest in some extra insulation to keep heat from leaking out of your roof. Figure out where the hot air from your kitchen, bathrooms, or furnace is venting. Ensure that all the vents and chimneys on your roof are unblocked and venting properly.
We hate to keep piling up winter concerns on you, but we only do it because we care. Ice dams are really not a big deal… until they are. Fortunately, that means a little foresight and preventative maintenance goes a long way. Keep the possibility of ice dams in mind this winter, and chances are you'll have nothing to worry about.
As for other winter pest concerns, don't forget that you're not on your own. Come snow, sleet, or hail, Plunkett's Pest Control is more than prepared to help you with any pest-related concerns you may have. Just
give us a call anytime
and we'll be there. Stay warm!